Let's accept it – Your Company puts a lot of effort into keeping consumers satisfied. You build personal relationships with clients and work relentlessly to create new features and products that will satisfy their demands. But even with the finest customer service, your company's reputation is going southwards.
An irate consumer publishes a negative review on the internet. Or a less-than-flattering media content has far wider circulation than you anticipated. No matter what the situation is, Online reputation management via best ORM company in UAE can help you in such crisis hours.
You may find it surprising but you can easily reduce negative customer feedback and maintain the best possible online presence by actively managing your reputation.
What Is Online Reputation Management ?
Online reputation management (ORM) is the process of actively tracking mentions of your business on websites and social media in order to respond to any untrue or unfavorable remarks.
ORM Company functions by responding to unfavorable online customer reviews and articles in the media (both conventional and social) that cast a poor light on your business. As an illustration, you may respond to the story's substance with a public remark or a social media post.
How is PR different from reputation management?
The aim of both online reputation management and public relations (PR) is to present the firm in the best possible light. The primary distinction between the two, however, is how they carry out that objective.
PR firms engage in external activity, such as advertising and planned media promotions. Instead of reducing company attacks, it's mostly a proactive attempt to enhance brands (though PR firms do sometimes handle damage control).
On the other hand, managing your online reputation via ORM company in UK is sometimes a reactionary process. It entails searching for and reacting to potentially harmful material created by other people or businesses. Brands, as opposed to an outside company, manage the majority of the effort that goes into ORM.
Why Is Online Reputation Management Important?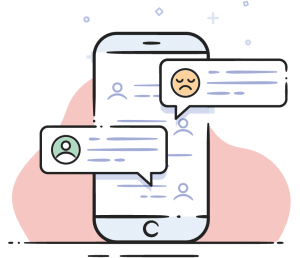 A brand may suffer countless online blows, but they are frequently little attacks—a critical review here, a poor star rating there. Although none of these setbacks would merit a comprehensive PR effort, they soon accumulate.
To put out each of these minor flames before they cause major harm, you require online reputation management via a reputed ORM firm in UAE. Maintaining transparency—a crucial component of brand loyalty in 2022—is also critical.
Although well planned PR efforts have their role, customers now also want genuine encounters with brands. They prefer having private dialogues with companies in the form of direct messages or Instagram comments.
Through the use of online reputation management, your company may battle unfavorable press by answering it honestly and immediately.
Online Reputation Management Techniques to help you with your ORM goals !
Online reputation management might seem overwhelming given the vast number of social media and other websites where your business may be discussed. But don't worry, we've put up five sensible tactics to get you started controlling the Online reputation of your company.
Respond Quickly and Empathically.
The finest ORM occasionally occurs prior to the publication of a critical comment or review. Customers who message you directly or submit questions on social media should receive an immediate response.
Don't wait too long; according to a poll, 83 percent of respondents anticipate answers to social media remarks within a day or less. Quick answers let customers know you respect their business and stop angry people from leaving bad reviews.
Make sure the client understands that you care about finding a solution to their issue and that you are ultimately there to assist.
When responding to a query on Twitter, the athletic apparel brand Lululemon did this:
Lululemon was able to demonstrate sincere care for the customer's issue by saying that this isn't how they want her to feel. She was given a simple way to get in touch with the business directly and they emphasized their willingness to promptly remedy the issue.
If you don't answer consumer questions right away, a private communication can become an unfavorable public comment.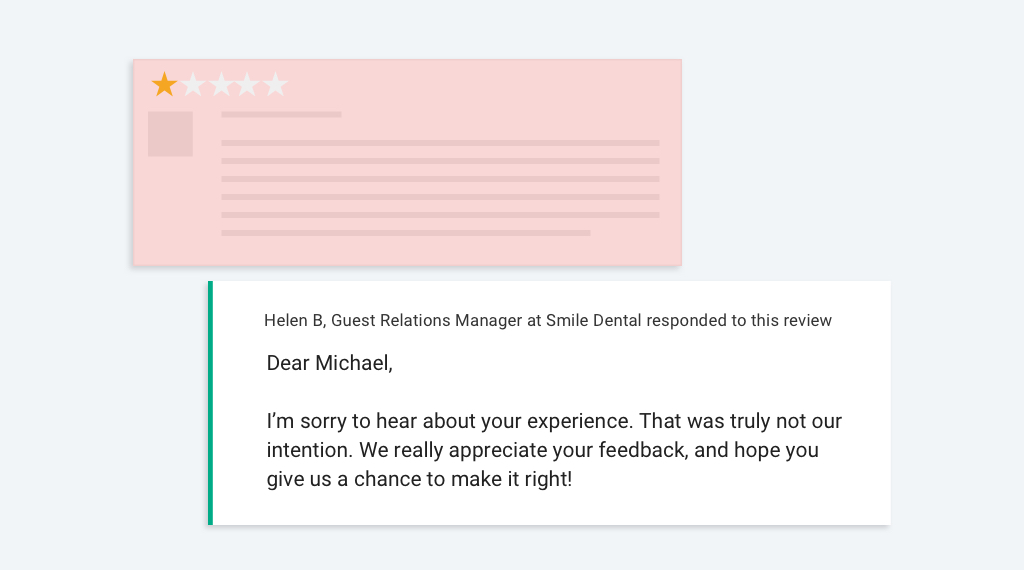 American Eagle, a clothing brand, experienced this.
The client sent American Eagle an inquiry via a private message, but the corporation never replied. The upset consumer then shared her negative experience online.
American Eagle might have averted a dissatisfied customer—and a very unfavorable piece of public feedback—with diligent online reputation management.
Fortunately, this type of exposure is simple to avoid.
Customer satisfaction and online reputation-building may be easily achieved by promptly and empathetically responding to inquiries.
Deal with criticism right away.
It may be tempting to ignore critical remarks and consumer feedback. After all, why would you want to make a response that would call attention to them? However, the fact is that by ignoring dissatisfied clients, you're hurting your business.
97 percent of the 82 percent of customers who read online reviews also read the company's answers. By responding to unfavorable comments, you may demonstrate to clients that you will take care of their concerns even if they have a problem with your business.
Therefore, always reply to reviews and remarks that are unfavorable from customers. Deal with their problem patiently and firmly. Exercise equipment maker Peloton adopts similar mindset and frequently responds to complaints left on their website.
With these remarks, Peloton informs disgruntled users that their complaints have been heard and provides a mechanism for the reviewer to get in touch with the support team directly to get their problem fixed.
Your silence may be interpreted as a confirmation of negative coverage. A news item about Everlane's employees becoming unionized prompted a lot of questions and comments, but the apparel firm never reacted.
Because of Everlane's silence, the public assumed that the corporation had fired its customer care staff. It would have been sufficient to just respond to the criticism in order to dissipate it and save Everlane's reputation.

Acknowledge Your Errors.
It always helps to apologize if your business is under fire for a true or imagined incident. Remorse helps to calm difficult customer situations and improves consumer connections. Additionally, it conveys to customers the integrity and openness of your business.
Create your apology with the sincere aim to take responsibility for and address the problem. Discuss your plans to address the primary issues that customers and the media have brought up in direct response.
Think about your way to apologise as well. The best place to submit your comment would be on social media, for instance, if that is where the majority of the bad criticism is coming from. After two African American men were detained in a Philadelphia store, coffee giant Starbucks issued a formal apology on Twitter.
They issued a direct apology, reviewed their policies, and then closed all of their locations for a day of anti-racism education.
Unlike Starbucks, Pepsi made a public apology that only served to further damage its brand. It all began when the soft drink company received a ton of criticism over a 2017 advertisement.
In the advertisement, Kendall Jenner broke up a stalemate between demonstrators and police by giving the policemen cans of Pepsi. Customers were incensed by what they perceived as a denigration of demonstrators who had been detained, especially as the advertisement specifically referenced a demonstration against police brutality in Baton Rouge, Louisiana.
Kendall Jenner was the erroneous "who" of Pepsi's apology, and the company failed to address the criticisms of the advertisement. They scarcely made any mention of the impression that the corporation was making fun of serious demonstrations or the image that customers believed the advertisement conveyed.
Even though they did take down the advertisement, customers weren't happy with their answer, and a year later, Pepsi's popularity among young consumers was still poor.
Even businesses err occasionally. Declaring what you'll do to address the problem or stop it from happening again demonstrates to customers that your business is sincere and willing to accept responsibility for its errors.
Monitor Your Search Results Frequently.
SEO is typically thought of by marketers as a strategy to maintain brand visibility. However, it's also a crucial tool for reducing the exposure of information and unfavorable news connected to your business.
When someone searches for your company name, you want your firm's page to come up top. Customers are ten times more likely to click on the first search result than on page 10 spaces down, and the first result on SERPs receives more than 31% of all clicks.
To view what people see when they search for your brand, monitor the results in a private window. You might need to bid on your own keywords to keep the top rank as competitors can bid on your branded keywords to have their content appear first.
For instance, the first page of Google results for Taskade includes links to the company's home website, business page, social network pages, and reviews.
On the other hand, a sponsored advertisement for a direct rival, Monday, appears when you search for Trello in the top spot. Although a prospective client begins out looking for Trello, they could end up choosing Monday instead as it is the top search result.
Encourage pleased customers to provide good reviews on rating review websites as another strategy to enhance search results. Your average rating—which potential buyers see before clicking in to read individual reviews—improves as a result.
Automate online reputation management
Use software that automates ORM operations to save time rather to manually browsing websites and social media.
Google Alerts is one of the easiest monitoring tools. Enter your brand name into the tool to start receiving alerts when articles in the media and news mention your business. As a result, you will always be aware when your business is being discussed and you will always be prepared to act promptly.
Brand24 takes things a step further. It keeps track of mentions of your business on social media in addition to just crawling news articles. It can also carry out a "sentiment analysis," analyzing key terms associated with emotions in reviews to reveal how customers feel about your company.
SEMrush assists with search ranking analysis by monitoring the rivals' and your brand's SERP rankings. It goes beyond merely scanning websites and accumulating brand mentions by doing site audits to demonstrate how to improve the ranking of your company-managed pages.
You'll have more time thanks to these automated technologies to focus on the high-level ORM tasks of mending and fortifying connections with dissatisfied clients.
Summing it up
Its 2022 and the race to the top has already heated up in your respective industry or sector. While your competitors are doing everything to take their online reputation to new heights, you shouldn't leave any stone unturned too. Connect with a top ORM firm in UAE or the best ORM Company in Delhi as per your respective needs.